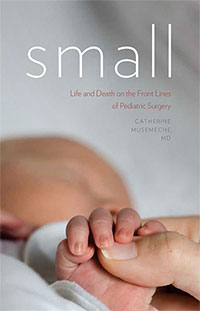 Literate, moving, and illuminating, SMALL is a first of its kind look inside the world of a pediatric surgeon.
SMALL: Life and Death on the Front Lines of Pediatric Surgery
A 2015 PEN American/E.O. Wilson Literary Science Award Nominee
Writer's League of Texas 2015 Nonfiction Discovery Award
Available at Buy Small on Amazon, Buy Small on Barnes & Noble or Buy Small on IndieBound.
Read an excerpt from the first chapter of Small.
As a pediatric surgeon, Catherine Musemeche stares through powerful magnifiers at walnut-sized organs and uses sutures as thin as a hair to resolve matters of life or death. In the forthcoming SMALL: Life and Death on the Front Lines of Pediatric Surgery, she takes us into the operating room where we watch over her shoulder as she works on a range of conditions, from rare congenital malformations and tumors to traumatic injuries. Riveting and inspirational, SMALL describes the perils of taking apart tiny bodies, and the special skill required to ensure everything is put back into place.
"Between the delicate surgeries on tiny patients, brilliant history lessons, and the obvious passion of the author for her work, SMALL is a huge achievment." --Daniel Menaker, author of the The Treatment, a novel, and My Mistake: A Memoir.
"Dr. Musemeche has woven together history, personal narrative, and surgical anatomy with the deftness of a master of craft." --Katrina Firlik, MD, author of Another Day in the Frontal Lobe: A Brain Surgeon Exposes Life on the Inside
"Pediatric surgeons have long been unappreciated, but Kate Musemeche, in her book, SMALL, reveals in vivid, intimate detail, the intensity and the excruciating focus that is required to do their painstaking work." --Lee Gutkind, Editor, Creative Nonfiction, Author of One Children's Place: Inside a Children's Hospital
"Operating on infants is not as simple as learning how to sew in minature," explains Musemeche in this fascinating, frequently hair-raising account of the state of pediatric surgery. Musemeche has been working in the field for three decades and writes with the kind of drama that feels as visceral as viewing a documentary." --Julia McKinnell, Maclean's