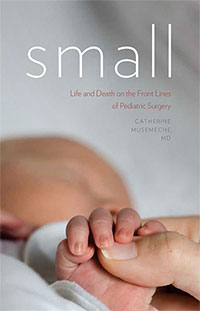 Literate, moving, and illuminating, SMALL is a first of its kind look inside the world of a pediatric surgeon.
As a pediatric surgeon, Catherine Musemeche stares through powerful magnifiers at walnut-sized organs and uses sutures as thin as a hair to resolve matters of life or death. In the forthcoming SMALL: Life and Death on the Front Lines of Pediatric Surgery, she takes us into the operating room where we watch over her shoulder as she works on a range of conditions, from rare congenital malformations and tumors to traumatic injuries. Riveting and inspirational, SMALL describes the perils of taking apart tiny bodies, and the special skill required to ensure everything is put back into place.
"Between the delicate surgeries on tiny patients, brilliant history lessons, and the obvious passion of the author for her work, SMALL is a huge achievment." --Daniel Menaker, author of the The Treatment, a novel, and My Mistake: A Memoir.
"Dr. Musemeche has woven together history, personal narrative, and surgical anatomy with the deftness of a master of craft. She highlights the dogged persistence of surgeon-inventors in her field, whose creative tinkering in labs, operating rooms, and even kitchens, paved the way for big potential in small patients, replacing despair with hope." --Katrina Firlik, MD, author of Another Day in the Frontal Lobe: A Brain Surgeon Exposes Life on the Inside
"Pediatric surgeons have long been unappreciated, but Kate Musemeche, in her book, SMALL, reveals in vivid, intimate detail, the intensity and the excruciating focus that is required to do their painstaking work." --Lee Gutkind, Editor, Creative Nonfiction, Author of One Children's Place: Inside a Children's Hospital